Vice President Kamala Harris to lead White House efforts to stem migration at the border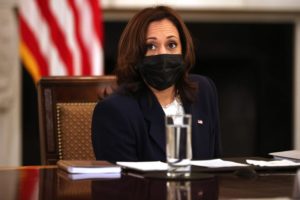 WASHINGTON – As the Biden administration grapples with the growing number of unaccompanied migrant children at the border, Vice President Kamala Harris will lead U.S. efforts to stem migration, President Joe Biden announced Wednesday.
Harris will work on establishing a partnership with Mexico and the northern triangle of Honduras, Guatemala and El Salvador.
"There's no question that this is a challenging situation," Harris said before meeting Wednesday with Biden, Health and Human Services Secretary Xavier Becerra and Homeland Security Secretary Alejandro Mayorkas. "While we are clear that people should not come to the border now, we also understand that we will enforce the law, and that we also, because we can chew gum and walk at the same time, must address the root causes that cause people to make the trek."
An increased number of children are being accepted into the USA, leading to overcrowding in short-term, jail-like facilities run by Customs and Border Protection. The Biden administration has struggled to move children quickly out of those facilities and into those run by HHS. By law, children are supposed to be moved out of CBP facilities within 72 hours.
As of Tuesday, HHS had 11,350 unaccompanied minors in its care.
Biden praised Harris Wednesday during the announcement, saying he "can think of nobody who is better qualified to do this."
"When she speaks, she speaks for me, doesn't have to check with me," Biden said. "She knows what she's doing, and I hope we can move this along."
During an interview with "CBS This Morning" on Wednesday, Harris said the administration faces a "huge problem" at the border. Biden administration officials have avoided using the term "crisis."