Cooper calls on NC businesses to press workers to get vaccinated or mask up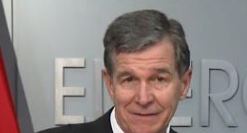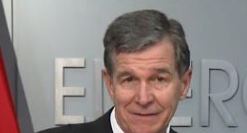 Gov. Roy Cooper on Thursday pressed businesses statewide to verify whether employees are vaccinated against coronavirus and, if not, require them to wear masks and take weekly virus tests.
The push won't be a requirement for businesses, but "a strong recommendation," Cooper said. The governor will enforce the rules for some 50,000 state employees in his administration, however, and he issued an executive order that set a Sept. 1 deadline for workers to get their shots.
"We are at a crossroads. We need the private sector to help us increase vaccine rates," Cooper said during an afternoon news conference. "Until more people get the vaccine, we will continue living with the very real threat of serious disease."
Also during the governor's news conference:
The state mask mandate will expire Friday, as scheduled.
New recommendations call for all K-12 students, faculty, staff and visitors wear masks, regardless of vaccination status.​
Fueled by the highly contagious Delta variant, coronavirus cases have exploded in North Carolina in recent weeks. The state reported 3,268 new infections on Thursday, the highest one-day total in more than five months. The daily case count is up 82 percent from a week ago and is more than triple the number reported July 15.
Also, 1,141 people are hospitalized with COVID-19 statewide, the most in three months and 51 percent more than a week ago.
Dr. Mandy Cohen, secretary of the state Department of Health and Human Services, said the rate of increase of hospitalizations is now the fastest during the pandemic. She noted that every person infected with the Delta variant spreads it to an average of six people, compared with only two to three people for the original virus.
The new requirements will affect most state agencies, but not university or community college campuses or state offices headed by other members of the Council of State, such as the Department of Agriculture and Consumer Services or the Department of Public Instruction.
Those entities have separately appointed or elected leaders who don't answer directly to the governor, although the University of North Carolina at Chapel Hill, at least, has already announced it will require students to be vaccinated or submit to weekly testing.
Cooper's announcement is similar to what President Joe Biden mandated for federal employees on Thursday.
A number of North Carolina hospital systems have already said they'll require employees to be vaccinated, and DHHS said this week it will do the same for employees working in state-run health care facilities.
Only 57 percent of North Carolinians age 18 or older are fully vaccinated, with another 4 percent having had one vaccine dose, according to the DHHS data.
Cooper said he expects many businesses to follow the vaccination or testing requirement for workers, saying owners want to protect their staffs and their customers.
"It's responsible. It's patriotic. It's the right thing to do," he said of vaccinations.
The Centers for Disease Control and Prevention issued guidance this week that people in areas where the virus is surging – that includes 85 North Carolina's 100 counties – should wear masks indoors, including everyone in K-12 schools, regardless of whether they've been vaccinated. Despite that, Cooper said he wouldn't reinstate a statewide mask mandate. He lifted much of that mandate in May, and the mask requirements for schools expire on Friday.
"Schools know what to do. Business knows what to do. People know what to do," he said of wearing masks. "We know the real way out of this [pandemic] is vaccines."
DHHS did adjust its guidance for school districts, however, recommending that everyone wear masks indoors. Earlier, that recommendation was only for elementary and middle schools, as well as unvaccinated high school students and staff.
Noting that some school boards across North Carolina have voted to make masks optional for all students and staff, both Cooper and Cohen urged them to reconsider and follow state and CDC guidance.
"Look at where the [virus] numbers are in your county and think about the danger that students could face," the governor said.
Source: https://www.wral.com/coronavirus/cooper-calls-on-nc-businesses-to-press-workers-to-get-vaccinated-or-mask-up/19797355/